SPECIFICATIONS
QUALITY MATERIALS
Cabinets Quick is proud to offer only the finest materials when it comes to its cabinet construction. Real Maple Veneer Plywood is custom made for Cabinets Quick by Columbia Forest, allowing for a cost effective method while still ensuring a consistent high end product. If cabinets are made out of Furniture Board, Cabinets Quick only uses 90lb particle board with an all pine core. The higher quality core allows our state-of-the-art equipment to cut the cleanest pieces. Some vendors use lower density particle board usually made of birch chips.
EUROPEAN HARDWARE
Cabinets Quick uses premium hardware from brands such as Blum, Salice or Hafele. Our cabinets come standard with 6-way adjustable soft close hinges and soft close undermount drawer guides.Other hardware may be used depending on a specific cabinet needs, but the quality will always remain the same.
CABINET CONSTRUCTION
Most vendors are KCMA certified, whereas Cabinets Quick went a step above and constructs commercial grade cabinets based on the quality standards and specifications set by WI (Woodwork Institute). We use Confirmat screws in our construction to ensure integrity and allow our cabinets to meet hospital, school, and government standards. Other vendors often use staples and glues in their construction, leading to a weaker cabinet unable to meet high standards. A hallmark for high quality cabinets is the interior fit and finish. Cabinet Quick parts are all cut using state of the art equipment with precision up to 0.02mm. A human hair is approximately 0.08mm thick, making our manufacturing process far superior to our competition and ensures that all cabinet parts fit together seamlessly and without any gaps.
ENVIROMENTALLY FRIENDLY
Cabinets Quick is Phase Two CARB2 compliant, a certification process instituted by the California Air Resources Board (CARB) to reduce formaldehyde emissions and protect the public from airborne toxic contaminants. Cabinets Quick stocks domestically-made plywood by Columbia Forest, a company exclusively offering soy-based PureBond® technology for manufacturing.
CABINET SPECIFICATIONS
CASE CONSTRUCTION
Frameless European Construction
Confirmat construction (no staples or glue used)
3/4" material for tops, bottoms and sides
1/4" material for backs
SHELVES
3/4" Full Depth Adjustable Shelves
3/4" Full Depth fix Shelves
CASE MATERIAL OPTIONS
White and Gray Melamine
Customers can upgrade to Prefinished Maple Plywood
HINGES
6-way adjustable 110° Soft Close Hinges
DOOR SPECIFICATIONS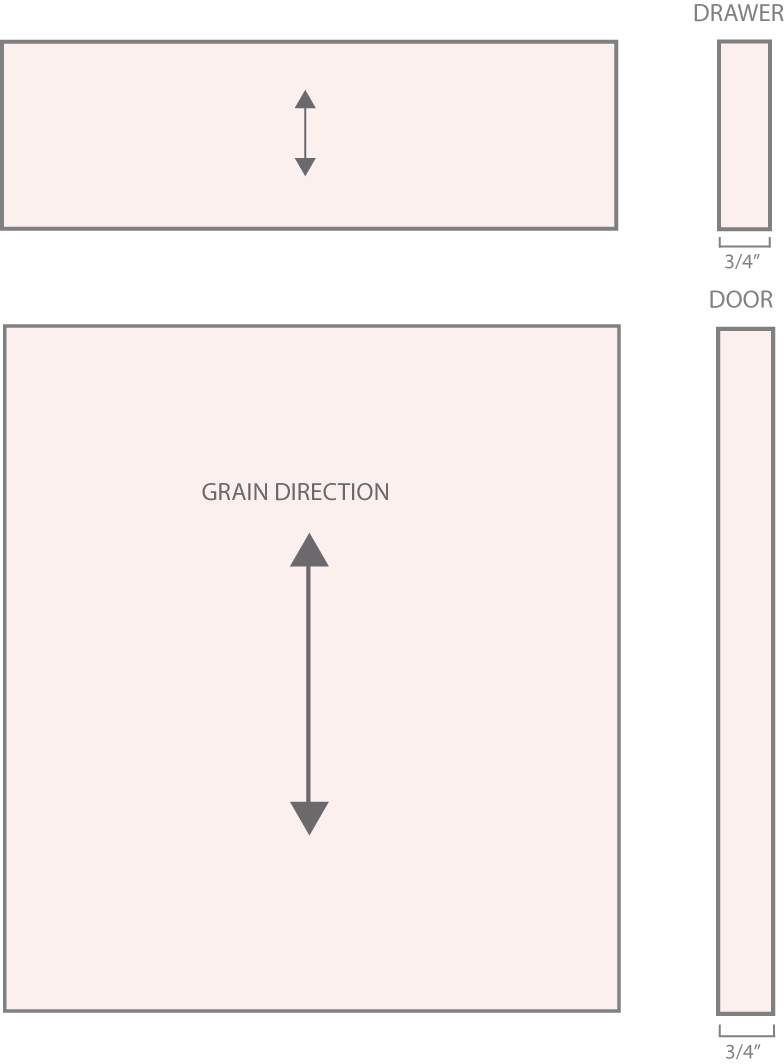 //= get_stylesheet_directory_uri();?>
DOOR TYPES
Full Overlay Slab Doors
5 Pc Shaker Doors
1 Pc MDF Routed Shaker Doors
MELAMINE
Is an excellent choice of material for kitchen doors as it is highly durable, moisture resistant and extremely cost effective.
Brands like: American Laminates, Egger, Cleaf
Door type compatibility: Slab Doors, 5 Pc Shaker Doors
THERMOFOIL
Is a durable and flexible vinyl material that is heated and molded over medium density fiberboard. Unlike painted doors, Thermofoil is highly resistant to scratches and fading and does great in bathroom and kitchen settings due to its resiliency against liquid spills and moisture.
Door type compatibility: Slab Doors, 1 Pc MDF Routed Shaker Doors
HIGH GLOSS ACRYLIC
Is a product that offers a contemporary and highly flexible ultra gloss solution that is both luxurious and affordable. High Gloss Coating delivers a far superior surface finish and appearance compared to high pressure laminate, PET, melamine, paint and RTF and other thinner acrylic laminate.
Brands like: Stylelite, Luxe
Door type compatibility: Slab Doors
MATTE FINISH
Ultra Matte Finish has revolutionized the world of interior design. They are a high-tech material, unique by their characteristics by undergoing a particular series of processes, including a multilayer coating and the use of next generation acrylic resins. With low light reflectivity, their surface is extremely opaque, soft touch and anti-fingerprint.
Brands like: Fenix, Stylelite Trumatte
Door type compatibility: Slab Doors, 5 Pc Shaker Doors
PREFINISHED WOOD VENEERS
They are technically a thin layer of hardwood, usually thinner than 1/8 of an inch that is attached to a board. It's not printed, it's real wood and the process yields a durable, clear coating that is resistant to water, heat and highlights the properties and beauty of the wood.
Brands like: Shinnoki, Lignapal
Door type compatibility: Slab Doors
UNFINISHED WOOD VENEERS
Unlike the Prefin. Wood Veneers - the Unfinished Veneer Cabinets - require a second process
Rift Cut White Oak, Walnut
Door type compatibility: Slab Doors, 5 Pc Shaker Doors
DRAWER SPECIFICATIONS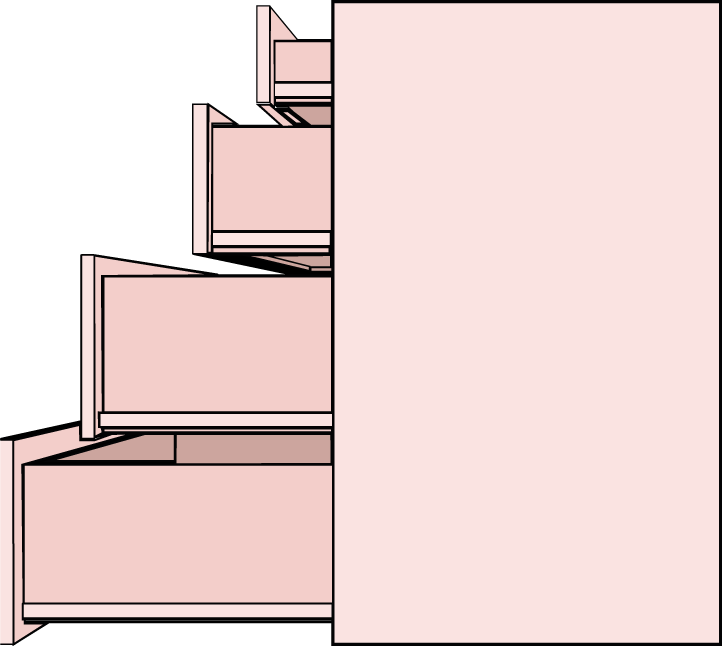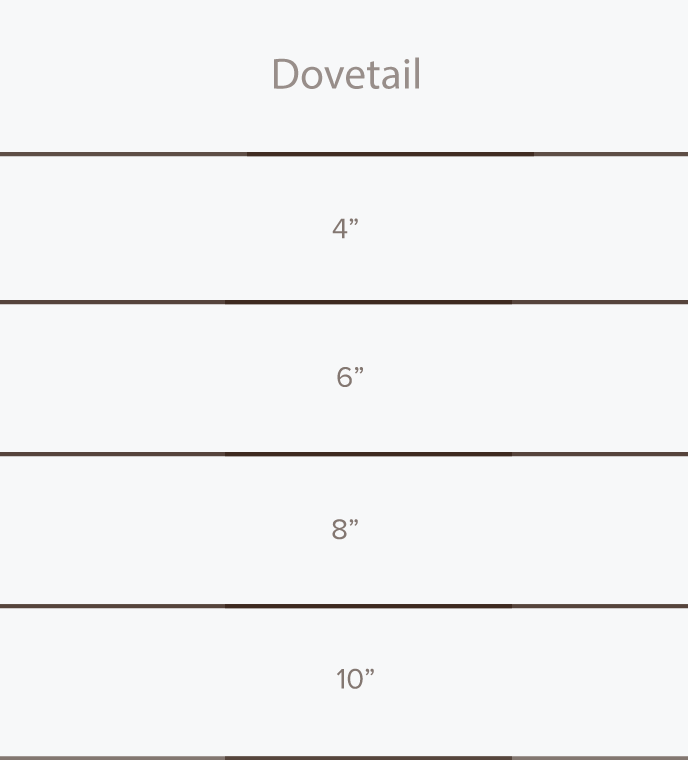 DOVETAIL DRAWER BOX
1/2" Baltic Birch Dovetail Construction with 1/4" Bottom
5/8" Solid Wood Maple Prefinished Dovetail Construction with 1/4" Bottom
DOWEL DRAWER BOX
5/8" Prefin Maple Dowel Construction
5/8" Solid Wood Maple Prefinished Dovetail Construction
5/8" White Melamine Dowel Construction
5/8" Gray Melamine Dowel Construction